California International Marathon 2019: From 3:41 marathoner to 2:41 marathoner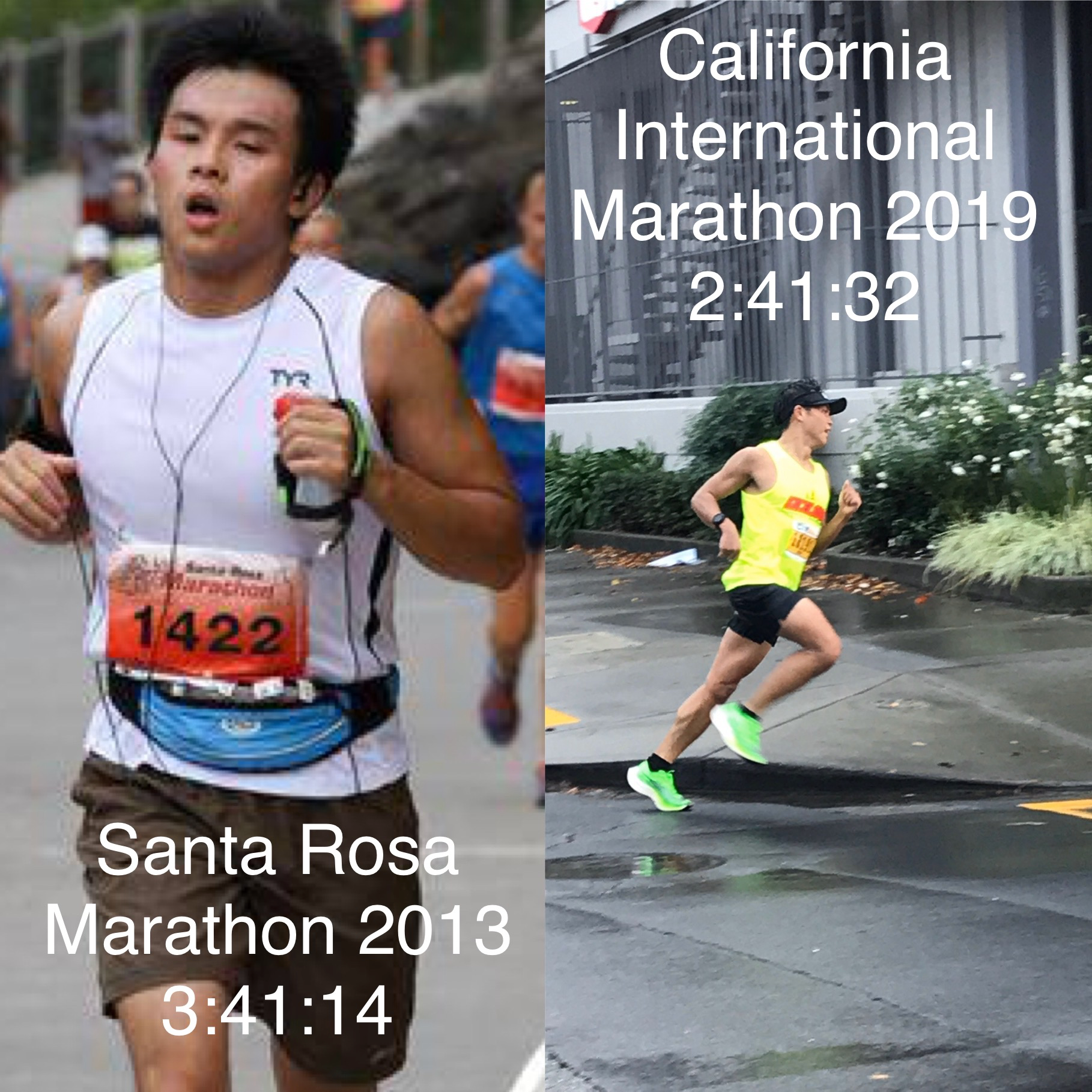 The night before my first marathon in 2013 with my friend Sid, I learned what a gel or "goo/gu" was and that there existed this concept of qualifying for the Boston Marathon from a fellow runner at our Airbnb. I had done what I thought was a pretty good job of training and was ecstatic about fighting through "the wall" to finish in 3:41:14, an average of 8:27 minutes/mile. I remember looking up the Boston qualifying time for my age group afterwards and just laughing at the 3:05 time, almost a minute and a half faster PER MILE. I didn't think it was possible. I also didn't complete another marathon until 2016.
If I were to tell my 2013 self that one day I'd not only qualify for Boston, but improve on that first marathon by AN HOUR and average 6:10 minutes/mile, I would have assumed that in the future, we all became enhanced cyborgs or that they perfected body transplants. As coach Roche says, DREAM BIG!
Pre-race goals
A: ❌ Sub-2:40
B: ✅ Sub-2:42 (2:41:14 would be exactly a 1-hour improvement from Santa Rosa on 8/25/13!)
C: ✅ Sub-2:45
D: ✅ PR (2:47:27)
Nutrition
Pre-race: 60g oatmeal + 1 spoonful of PB + honey + emergen-c + beetroot + tea w/honey + 2 coffees (one from hotel room, other from lobby) + Gu Summit Tea on the bus = ~800 calories with ~550 about 3 hours before and ~250 calories about 1.5 to 1 hour before
Race: 2 Gu Roctanes (Cold Brew, Pomegranate) + 1 every 20m (0:20, 0:40, 1:00, 1:20, 1:40, 2:00, 2:20) = 900 calories
Training
Here's the 16 weeks leading up to CIM for me. I ran the Chicago Marathon 8 weeks before CIM in 2:47:27 with the plan to take the first half somewhat easy and race the second half.
| Week | Miles |
| --- | --- |
| Nov 25 - Dec 1 | 52.2 |
| Nov 18 - 24 | 70.5 |
| Nov 11 - 17 | 74.7 |
| Nov 4 - 10 | 58.8 |
| Oct 28 - Nov 3 | 57.7 |
| Oct 21 - 27 | 25.1* |
| Oct 14 - 20 | 19.8* |
| Oct 7 - 13 | 58.1 |
| Sep 30 - Oct 6 | 22.2* |
| Sep 23 - 29 | 63.3 |
| Sep 16 - 22 | 72.1 |
| Sep 9 - 15 | 70.4 |
| Sep 2 - 8 | 68.7 |
| Aug 26 - Sep 1 | 61.0 |
| Aug 19 - 25 | 66.4 |
= Sick or injured

Average: 56.1 miles per week
Average minus sick/injured weeks: 63.8 miles per week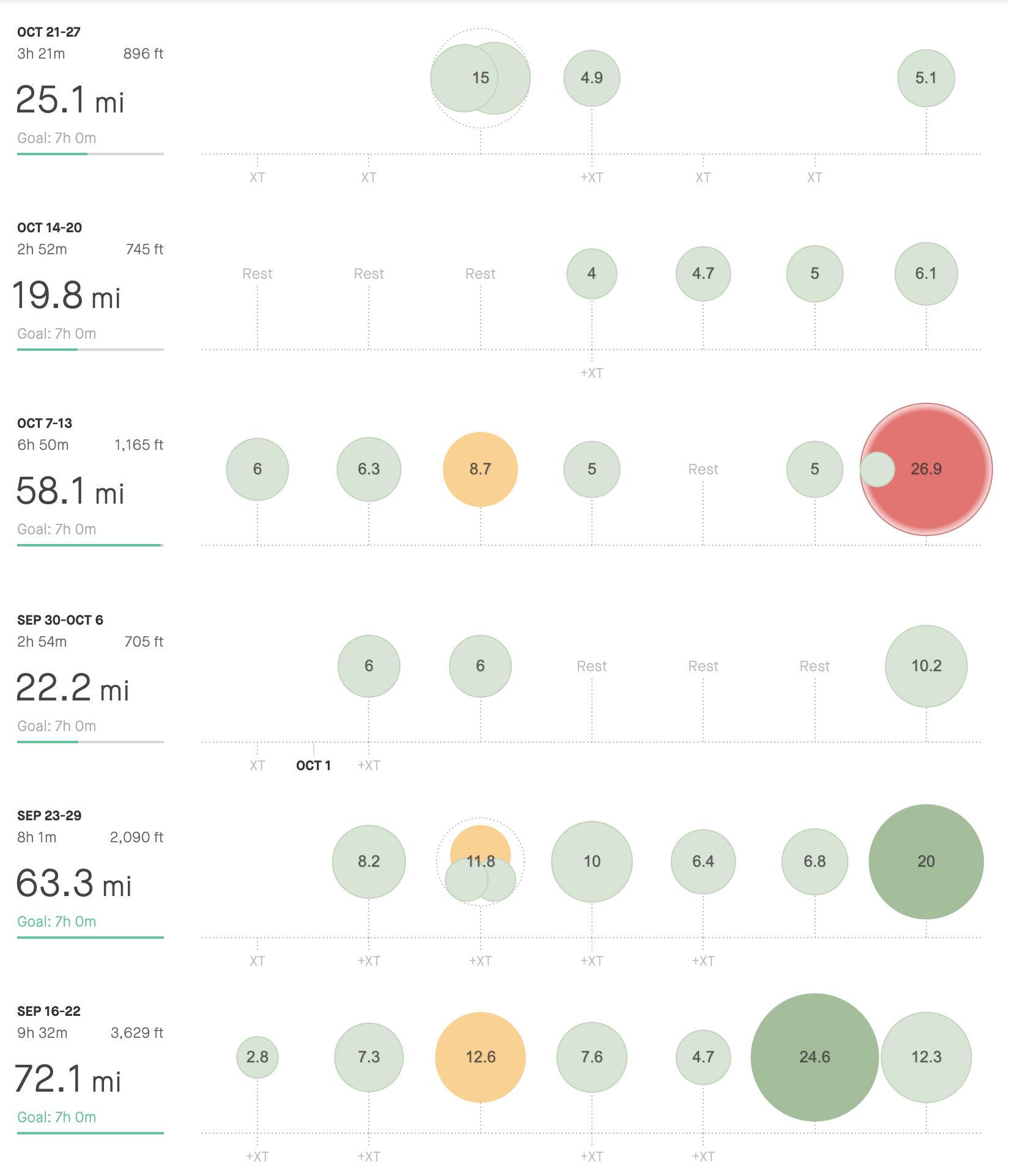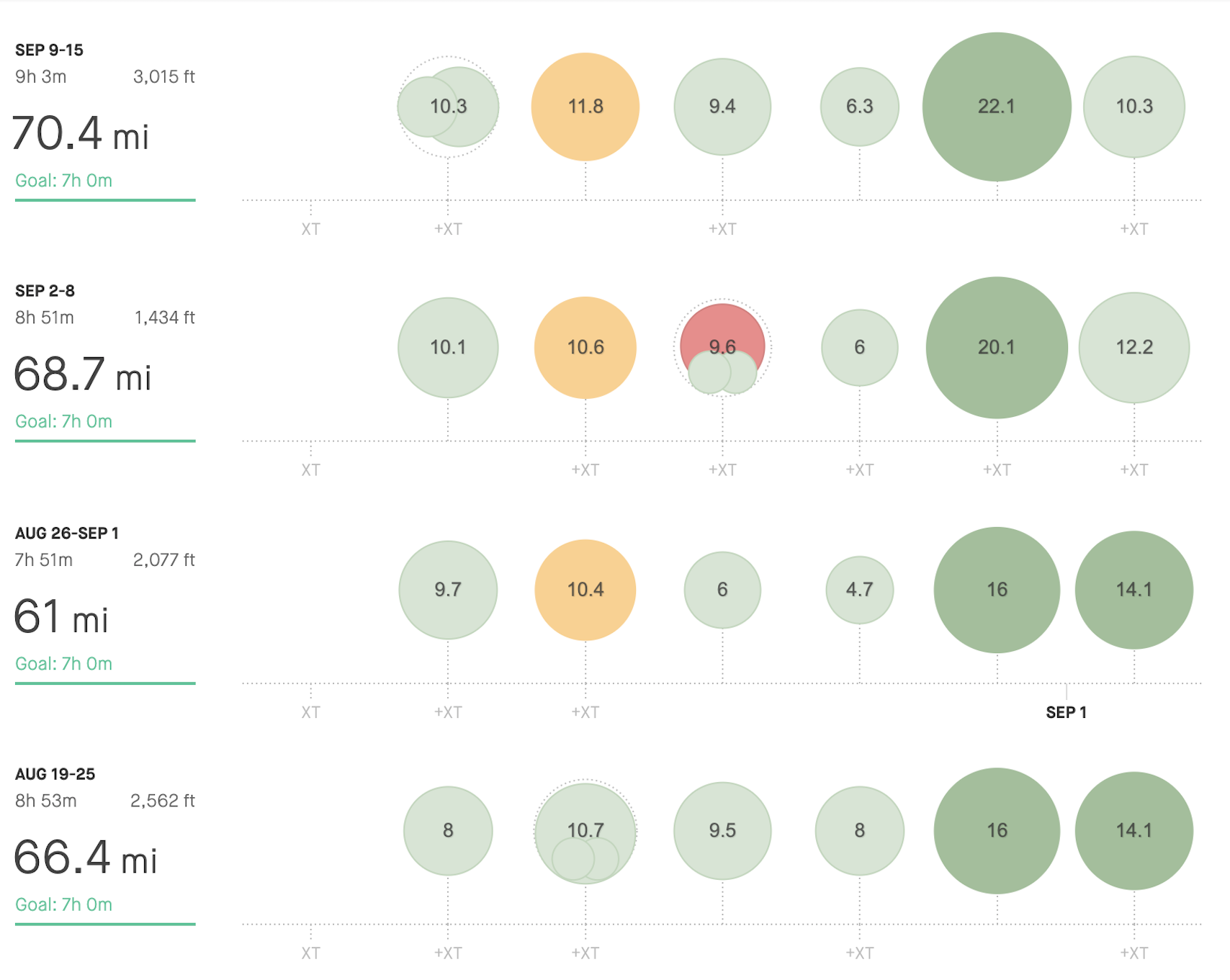 Key workouts
Race Report
As far as the race itself, I listened to Coach Roche and approached the race ready for an IMPERFECT day and treated all the issues that came up as problems to triage/solve. Got sick the week before the marathon? Don't panic. Just try to bank sleep, drink plenty of water and honey tea and hope I feel better by race day. Pain on the back of my left foot at mile 15? Probably just a blister. Should I stop to try to get a band-aid on it? Should I look at it? Probably not. Seeing the blood would probably just make me nauseous, and chances are that putting a band-aid on it wouldn't do much to help with the pain. Maybe consider putting vaseline/body glide on that area next time. Stomach problems at mile 20? Don't panic. I adjusted my breathing, checked to see if it was slowing me down. Decision time: if it was going to slow me down, then consider stopping for a bathroom break. Otherwise, just breathe and keep going (even if it risks 💩ing myself— happy to report that the calculated risk didn't blow up in my shorts). Slight cramping/stitches? Just breathe and try a few breathing tricks to change up the cadence: two breaths in for every breath out or breathing out when my left foot hits the ground).
Overall, I didn't quite have the PERFECT day needed for the super super A goal of 2:40, but hit the B goal I set for myself of 2:42, and hit a very slight negative split (1:20:54 / 1:20:38). I was hoping for 1:21 / 1:19 on a perfect perfect day. I was pretty concerned about the rain and wind in the days leading up to the race, but just accepted there wasn't much I could do about it besides just prepare as best as I could to stay warm/dry before the race. I knew I had PRed previously at Boston 2018 in worse conditions. Luckily, the weather cleared up and it barely rained on us (just a little bit during a few of the middle miles and in the last 6 miles). I LOVED the ENERGY and AMAZING VIBES from all the AMAZING women going for the OTQ B standard + their pacers! 💙💙💙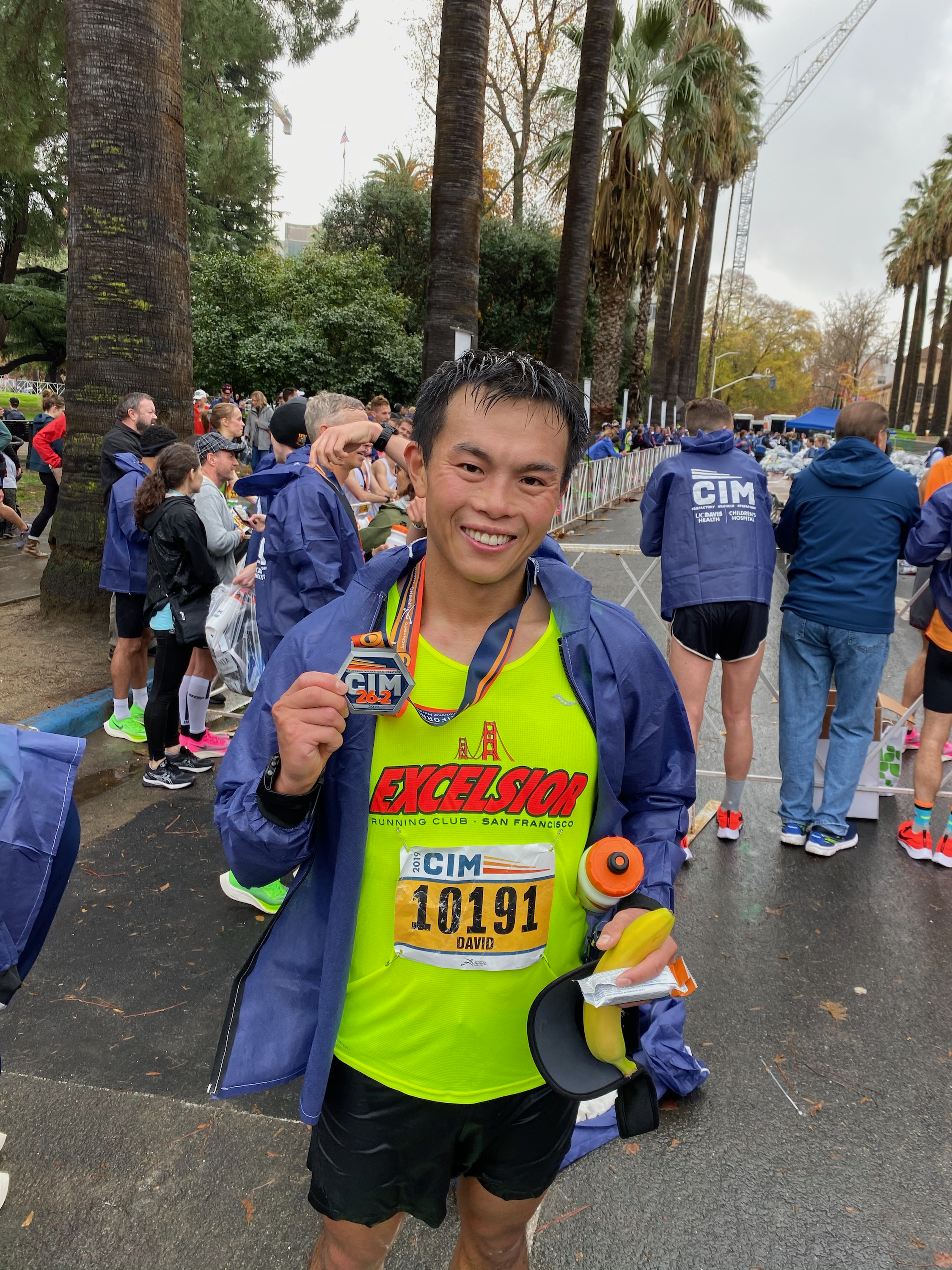 Post-Race Thoughts
This race was an AMAZING way to celebrate/cap off an AMAZING year of running/training/racing. Thanks to everyone that I've had the pleasure and privilege of sharing miles with this year!!! Special shoutouts to coach David Roche and the amazing #SWAPTeam, Excelsior teammates, the Sports Basement Bryant and 🍕 crew, and the AtlasGO, Back on My Feet, Run365 SF and DSERunners communities for all the amazing miles and support/love, and of course my friends Ricky and Sid for a very important aspect of training-EATING and sharing many meals together.
Thanks to Andrew Ng and Jon Nall for reading drafts of this.
Thanks for reading!
If you enjoyed this post, check out my latest post:
An Archipelago of Ideas
:
What if you thought of your writing, coding or building process as discovering first one idea island, then another, then another, until you can see the archipelago of ideas, and only worry later about building bridges to connect them?
Read more →
Or subscribe to get notified of new posts: